Spring is stealthy. The longer days and enthusiastic bird song may hint that it's on its way. However, it's the appearance of wild garlic, or ramsons, that confirms it.
You'll be strolling along a path, somewhere bucolic (or not, there's plenty that grows around Edinburgh Castle) when you're hit by that garlicky waft before spotting the white constellation-like flowers and smooth green leaves.
Although it's tempting to stuff your bags, pockets and panniers, it's better to tread lightly.
Where to find wild garlic in Scotland
Wild garlic grows in abundance, from cities to the countryside so you should have no problems finding it when it spring up, from March to May.
It grows well in woodland or wooded areas and chalky soils. You might find it in hedgerows but it'll thrive in damp areas
Wild garlic is common and widespread across the UK. It favours deciduous woodland and chalky soils. You can also spot it in scrub and hedgerows but it prefers damp areas.
How to forage for wild garlic
"Wild garlic is a great gift to foragers, and can seem endlessly abundant. But don't forget that other species have evolved to rely on that abundance," says foraging expert, Mark Williams, of Galloway Wild Foods.
"The flowers provide early nectar for pollinating bees, moths, hoverflies, beetles and other flying insects. Wild garlic is the primary host plant for a specialised hoverfly, the ramsons hoverfly (portevinia maculata), the larva of which overwinter in the bulbs.
"Although cut wild garlic will grow back the following year, repeated cutting year-on-year will weaken and eventually reduce once dense colonies.
"Spread your picking around within a season, and from year-to-year, never uprooting or stripping large areas, but taking just a few leaves from each plant. I call this thinning abundance. There is plenty to go around if we keep this in mind".
What to make with wild garlic
Once you've got yours home, there's lots you can do. Make pesto, add to pasta or chuck it in an omelette.
Our foodie friends have more imaginative suggestions, like wild garlic spaetzle, tortellini, a take on Welsh rarebit, in chicken Kiev, fermented like sauerkraut, in a sauce gribiche and stirred into a risotto.
Tomas Gormley of Edinburgh's pop-up Bad Seeds, said it "makes a wonderfully punchy mayonnaise once infused into an oil, then whipped with egg yolk vinegar and mustard", and Oban's Etive Restaurant have used it in tattie scones. Top chef Angela Hartnett is currently using it as an ingredient in arancini.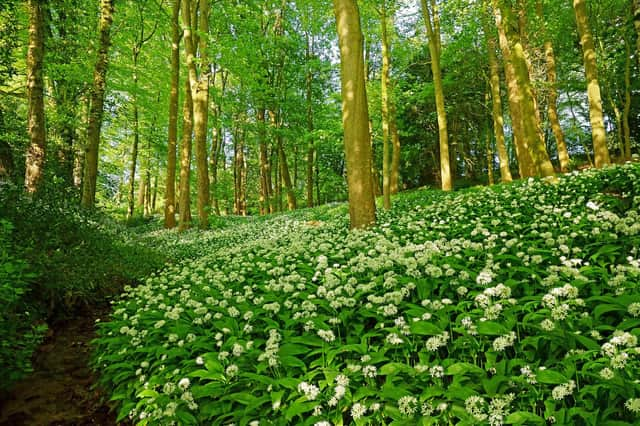 The world is your oyster (and it probably goes with those too).
Will Bain, catering manager for Scran Academy has this cooking tip: "Chop waxy potatoes into wee cubes and roast them in goose fat or olive oil with plenty of salt, then chop a big handful of wild garlic and toss it through for the last five minutes of cooking. Eat with a huge T-bone steak".
Mary Contini, author, and owner of Valvona & Crolla suggests light spring recipes, saying: "Wild garlic is prolific in the walks around Scotland. Once you identify it you will be able to find and gather it easily; and it's free. I use the leaves and the small, sweet bulbs which can be pulled from the ground easily.
"The pretty white flowers are mild and can be used to add a pungency to a spring leaf salad. Watercress and wild garlic soup with crème fraiche or soured cream is delicious. Add the watercress and wild garlic leaves to the base of the soup for the last 5-10 minutes only to keep a bright fresh colour.
"Wild garlic butter takes new season baked potatoes to another level. Try a sour cream and chopped wild garlic salsa dolloped on top".
Rory Lovie, head chef at Bridgeview Station added: "I blend the leaves and some double cream together and use this emulsion for finishing a risotto. When the flowers come out also they are fantastic as a wee garnish".
Mark Heirs, personal chef has a great storage tip: "I make wild garlic butter, roll it up and freeze it to last me the rest of the year. This goes particularly well with seared scallops or stuffed into chicken for the ultimate Kiev.
"I can't be without wild garlic pesto so I make a version with wild garlic, pecorino and toasted hazelnuts. I add oil to the mixture, then freeze. When I defrost it, I add more olive oil to bring it to the traditional pesto consistency".
Amy Elles, chef patron of The Harbour Café said: "We are so lucky to be able to forage in the spring for wild garlic around the East Neuk. For me, it goes into everything including soups, salads and sauces.
"It is a very versatile ingredient - if you think of it like a herb you can substitute it into a lot of recipes. Some of my favourite things to add it to include boned and stuffed leg of lamb with anchovies; lobster; chicken (with wild garlic mayonnaise) and smoked mackerel. If all else fails, slice it thinly and use as a garnish on top of everything."
Wild garlic recipe
Tony Singh, chef and author has shared this recipe for his chana aloo masala with wild garlic.
Ingredients
400g drained tin of cooked chickpeas
2 small onions, chopped
1 tin chopped tomato
1 tsp red chilli powder
½ tsp turmeric
250g potato peeled and diced
2 tbsps rapeseed oil
1 tsp cumin powder
1 tsp coriander powder
1 heaped tbsp ginger garlic paste
2 green chillies, finely chopped with seeds
50g coriander, washed, dried and chopped
3 handfuls of wild garlic, washed and dried
Method
1 Heat the oil in a large pan. Add the onion and cook till golden brown, then add the tomatoes and cook for a further five minutes.
2 Add the dried spices, green chilli, ginger garlic paste and chickpeas and stir in the pan for three to four minutes.
3 Add 200mls of water to make a thick gravy. Bring the gravy to the boil, then add the potatoes and some salt. Simmer until the potatoes are cooked.
4 Finish by folding in the wild garlic and fresh coriander. Check seasoning and enjoy with freshly made puris.